A chance to see wild bears in action!
Posted on April 05, 2019
---
It's not every day you get the chance to see wild bears in action – caught on camera as they catch wild salmon in their mouths at Brooks Falls in the Gulf of Alaska.
But that's what Kevin Dennes enabled a packed room of residents at the Beauty Point Retirement Resort to do recently when he showed them a series of amazing photos he'd taken when he was at Brooks Falls in 2007.
Kevin has been a professional photographer since he was 18 and during that time, the bulk of his work was in the medical and scientific field of photography. But his own personal interest was always in taking photos of wildlife. As he said: "My own particular interest was taking photos in Africa and in the Antarctic and the Arctic – and of course the bears in Alaska."
You may recognise these photos
At his presentation, Kevin told the audience they'd probably recognise these photos because they're all shot in the same place that John West© used to shoot those salmon ads for so many years.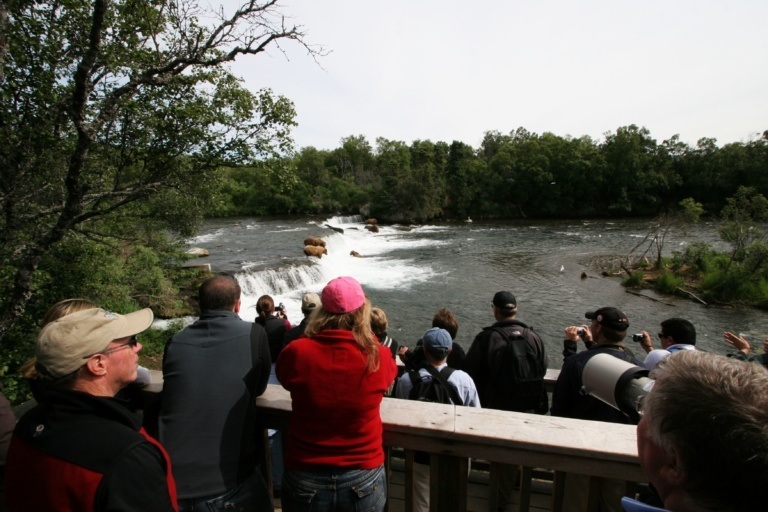 "This is the best place in the world you can get up close enough to actually get a good photo of the salmon jumping through the air. They're trying to get over the falls as they swim upstream to the very place where they spawn, and of course, the bears will always be there waiting for them at the top of the falls."
Kevin says getting a photo of the bear just as they grab the salmon in their jaws is a matter of timing as the photo has to be taken at the right "split second," – usually at about ½,000th of a second!
After 2800 photos – the perfect one!
"You have to take the chance and take photos as fast as you can. I took about 2800 photographs to get the one photograph I was after," he adds, showing us an amazing photo of a bear catching a salmon in its mouth, perfectly at the right moment.
When asked where the market is for this type of photograph. Kevin says an American wholesale travel bureau, selling travel in Alaska. He added: "It was used for several brochure covers and therefore it had to be of high quality."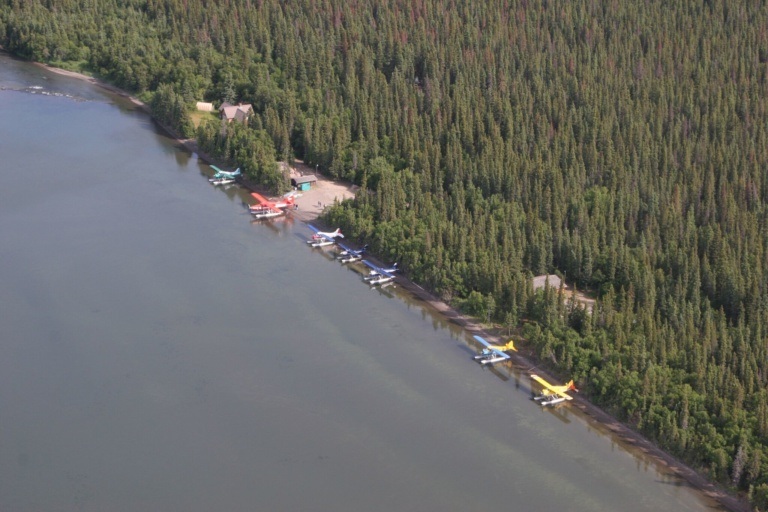 Getting to the right vantage point
Many of the places Kevin has taken photos in have not been easy to get to and Brooks Falls in the Gulf of Alaska is no exception. As he said: "You have to fly from Lake Hood in Anchorage by sea plane and then you have to fly for about four hours and land on the Brook's Lake. Then you walk through the bush, along the Brook's River for about two kilometres to the Brooks Falls."
"The bush land is all bear country and one has to be very much on alert at all times. As an aside, there are more seaplanes at Lake Hood than in the whole of the South Pacific! And there are more licensed aircraft pilots, per head of population living in Anchorage than any other city in the world!"
Once Kevin reached the right vantage point at Brooks Falls in the Katmai National Park, he had to work fast because he knew his time would be limited: "We flew from Lake Hood very early. We knew we had to fly back by seaplane and the seaplanes have to land before dark at approximately 9pm – so we knew we only had so much time at the falls," he said.
"I was there at the peak of the salmon run. This is the only place you can get a shot like this. The bears are gorging themselves so they can build up their fat stores for hibernation. They eat the heads, the roe and the skin of the salmon – but they don't eat the flesh," he explained. "That is left for the seagulls!"
Fourth time lucky for Beauty Point residents
This is the fourth time Kevin has shown some of his amazing photos at Beauty Point Retirement Resort. Previously he treated residents to a series of photos he'd taken on a tour of East Africa and later he showed some of his best photos from a tour of the Antarctic and at another, of the Arctic.
"I've done a tremendous amount of travel – most of it paid by someone else," he said. "I've travelled on the seven continents and it's been a wonderful experience for me."
At one time, Kevin worked for the Etosha Lion Research Centre in Namibia. This was a National Geographic research project. So most of the photography he did for them was used for research material to be used in scientific papers etc.