It was 'Game On' for Shuffleboard!
Posted on April 05, 2019
---
It was an exciting day when five teams came to play at the recent inter-village Shuffleboard Tournament at Beauty Point Retirement Resort. After an enjoyable lunch at the Beauty Point Resort's restaurant, the five teams began what was a tightly-contested competition, umpired by Steve Mortimer.
The teams included:
• The team from Mary Andrews Village in South Hurstville

• The team from the BlueGum Lifestyle Resort in Thirlmere

• The team from Southhaven Aged Care in Padstow Heights

• The Frank Vickery Victors from Frank Vickery Village in Sylvania

• The Boomers from Beauty Point Retirement Resort in Padstow Heights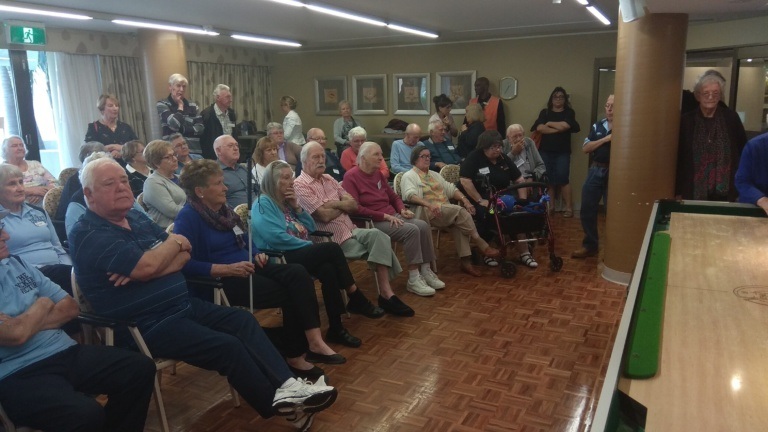 The room was packed for the recent Shuffleboard Tournament at Beauty Point Retirement Resort.
Well-known for his fair umpiring, Steve opened the tournament and joked: "I'm open to bribes!"
Of course, he umpired in his usual fair and precise manner. Because of the large number of teams for this tournament, Steve asked each team to split in half and the first half of each team played the first round and the second half of each team played the second round.
The competition started after lunch and went on for some time in the competition room. In the end, the Boomers from Beauty Point won the overall competition but it was highly competitive tournament and all the teams played extremely well.
Next tournament will be in early 2019 at BlueGum Lifestyle Resort
The next inter village Shuffleboard Tournament will be held at the BlueGum Lifestyle Resort in Thirlmere. The Boomers' captain, Alessandra Copeta, said: "We're looking forward to the competition next year at Blue Gum Retirement Resort. We'll have to travel to get there so we're very excited."
Keeping the passion for Shuffleboard alive
The Shuffleboard Inter-Village Tournament started years ago when Steve Mortimer thought it would be a good idea to set up a tournament within the retirement village community.
"My main focus is to hold the tournaments at lifestyle villages," said Steve. "It's just a great game and the good thing about it is, even if you're a good player, you're not going to win all the time. It keeps it exciting because theoretically, the last puck can still win the game and that keeps it exciting."
Steve added: "It's perfect for retirement villages because you can play from a Zimmer frame or even a wheel chair. It doesn't matter because it's the skill you have that wins the game."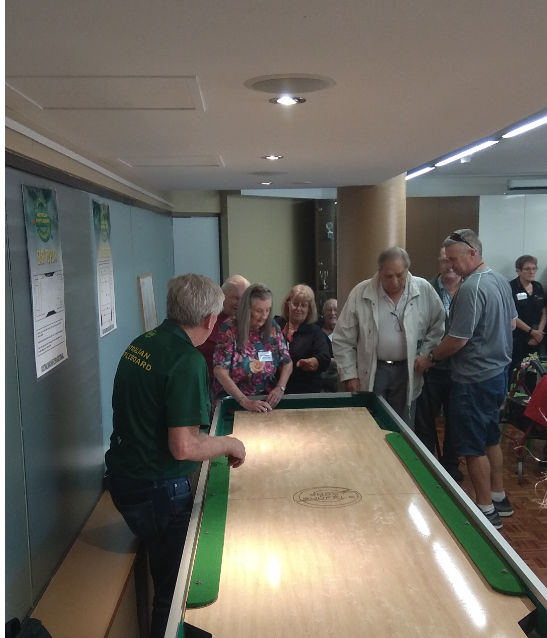 Every game was tightly contested.