Why Chiropractic care helps you – the older patient!
Posted on April 05, 2019
---
Many people use chiropractic care to ease their aches and pains and it usually helps them become more mobile and flexible.
Now you can try out chiropractic care right here at Beauty Point Retirement Resort because Dr Dylan Harvey – who holds a Bachelor of Chiropractic & Health Sciences and a Masters of Chiropractic – visits the resort every two weeks to see clients.
Dr Harvey has worked with many people to improve their movement, posture and strength. He also focuses on stability training and falls prevention. He's been a practicing chiropractor for four years since graduating from Macquarie University after completing three years of a Bachelor degree in Chiropractic & Health Sciences, followed by a further two years study for his Masters' degree.
Who benefits from chiropractic care?
Recently, Dr Harvey gave a talk to interested residents at the resort and he started out by saying: "You may well ask – who benefits from chiropractic care? And the answer is 'anyone.'"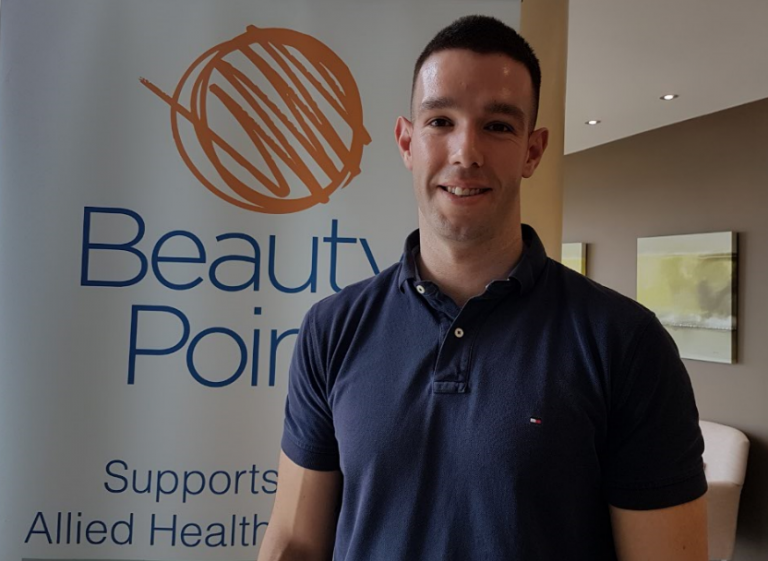 Dr Dylan Harvey is a chiropractor who visits Beauty Point Retirement Resort every second Monday. To book in, just call the front desk and you can get an appointment to see him.
"We have babies and it goes all the way up to patients in their 90s," he added. "I have a real passion for helping others with their health. We're analysing the body as a whole – we're looking for dysfunction anywhere because we want to balance that," he said.
Dr Harvey added that chiropractic care is the third largest profession in Australia within the health care system: "It might shock you to learn this, but it's not just about the spine."
"We want to look at the body as a whole. As chiropractors, we try and find the underlying cause for symptoms. We are trained to find out where a problem starts. It's not just pain we're treating – we're treating the whole system. The pharmaceutical industry is a trillion dollar industry but people are looking for alternatives to this way of treating their health now," he said.
Exercise and keeping mobile are so important
"We use spinal manipulative therapy and this works very well with the older population. But there are other factors which are very important. Exercise is so important – if you're keeping active and walking around and you combine this with some carefully regulated exercise, we tend to see very good results," he said.
Falls prevention is critical
"Falls prevention is critical as we age. Falls are the leading cause of unintentional injury for people over the age of 65," he added, saying there are many risk factors associated with falls so it's vitally important to help older patients prevent falls as much as possible.
Motion is the lotion
Dr Harvey emphasised that arthritis can be a big factor as you age: "There's over 100 different types of arthritis so this is something that affects many people." He said people often become inflexible as they age but they don't realise flexibility refers to the length of the muscle – so it is possible to change. "Muscles are controlled by our nervous system and to make them more flexible, 'motion is the lotion,'" he added.
So basically, Dr Harvey's message was, if you want to keep flexible, you need to keep mobile and moving as much as possible or your muscles will tend to become more and more inflexible.
But he did add that when he sees patients, the care he gives is specific to each person: "Two people with exactly the same presentation of pain can require completely different courses of treatment. Examination is the key – we need to know where the problem is coming from," he added.
Relief from pain
As far as treatment goes, Dr Harvey said the first step is to get the patient out of any pain they're experiencing. "Once we're treating you and you find you're experiencing less pain, you'll find you also have better balance and better body control."
"If someone has an aversion to having their spine cracked, then it probably won't help them. So we want it to be a two-way street and we won't do anything you don't want us to do," he said.
"We have to be across all of the underlying conditions such as Rheumatoid Arthritis. We look at how long your condition has been going on and what we can do to get you on the road to recovery," he added.
Dietary changes can help
To achieve full relief from pain and discomfort, Dr Harvey said some dietary changes may need to be made: "You may need to limit your wine or cheese but you may not want to do this. We can look at all of these lifestyle factors and goals and look at how to plan your day so it all works best for you. We have to zero in on all of these and find a plan you'll be happy with," he added.
20% off your initial consultation
If you'd like to try a chiropractic session with Dr Harvey, he's offered to take 20% off each new patient's initial consultation. "I'd love to see you. I'll be here at Beauty Point Retirement Resort a couple of Mondays a month," he said.
To make an appointment with Dr Dylan Harvey, call Shani or Mary at the front desk of the Beauty Point Retirement Resort on (02) 8708 4700 and they'll book an appointment for you.