Your Retirement can be the Perfect Time to Learn More – as Levane Shows Us
Posted on February 11, 2021
---
Levane Abdoolcader, a resident of Beauty Point Retirement Resort for the past three years, is currently completing an online Diploma of Family History via the University of Tasmania - and at the age of 79 - that's no mean feat!
Not only is Levane completing a degree online. She's also showing us we never really lose our love of learning. Even once we've retired, we're still inspired by new knowledge and wisdom at any stage of our life.
We sat down with Levane and asked her how she came to be studying a Diploma of Family History, how she manages it and why she does it.
Firstly, why did you choose to study a Diploma of Family History now in your retirement?
"Well, my husband died in mid-2018 and I think when you lose someone that you've been caring for, you've suddenly got a lot less to do. And strangely, I was talking to a woman at the hospital when I was visiting my husband every day and she was telling me about this marvellous course she'd been doing."
"We got chatting about family history and it came back to me later and I thought - I'll investigate that because I've been doing some research into my own family history and I've always enjoyed studying history," she adds.
"So, I enrolled with the University of Tasmanian in its Diploma of Family History. So far, I've done seven units and I'm starting the last unit this year. So, by mid-year I should have the diploma," she says.
What's the best part about studying online when you're retired?
"Firstly, I really enjoy learning more about how to do genealogical research," Levane says. "But doing an online course has been good for my computer skills as well – I've had to submit essays online and that's been fun. There's been a lot of reading and writing but the university supplies all of the lectures online. It's so interesting and I have more time now."
"You're able to watch the lectures online which is great. There's one historian who's just retired last year from the university, called Professor Hamish Maxwell-Stewart, and he has a marvellous style of lecturing. The slides he puts up are just so well-designed and fascinating! He is particularly good on social history, especially the convict system in Tasmania."
"Our Tasmanian convict records have World Heritage status because they're so extensive and detailed and in good condition. Researchers really get a lot out of that. So, I did two units on convicts although I don't actually have convict ancestors, but one of my cousins does. So, she gave me some information that I could research," Levane adds.
Was it difficult to start studying again in your late seventies?
"No, I've always been a bit of a reader and a researcher. But I think doing this particular course at my own pace has been a bit of a salvation to me in this time of COVID where we've been told to stay at home at the village as much as possible. At a time like this, you need something to do!"
"I found having a study course where there's a structure and you have assignments and commitments each week, means you're organised and you have something to fill your time in. It's all very structured, so yes, I'm really enjoying it and looking forward to the next unit. I said to someone the other day, I may be at a bit of a loss when I've finished the course because it's been so interesting," Levane adds.
What would you say to people who feel they're a bit too old to go back to learning new skills now that they've retired?
"Well, what people may not know is that there's a tremendous amount of help when you're doing an online course. I was a bit nervous about it at first because I've never done an online course before. Sure - I've done courses but that's been where I was attending classes. But I found when I started this course online, it was very easy to cope with the structure and there aren't too many technical issues that come up with the computer – it all works out very easily," says Levane.
"In my course, at the beginning of each new unit, someone from the university calls me to check that I'm not having any trouble with accessing the unit. If you do have any problems, there's technical support available," she adds.

"There are plenty of other things you can do on the Internet that are actually free. You can do creative writing or short courses in how to use your computer better. People may not realise how easy these are to do. There is plenty of help available to get started," she adds.

"As well, I don't think you're ever too old to be learning new things. I think in a way, it's more important in your old age to be doing something that challenges your brain, makes you think and keeps you interested and active. To do a full-unit course can get quite expensive - it's not for free - but people don't have to do university courses."
"There are plenty of other things you can do on the Internet that are actually free. You can do creative writing or short courses in how to use your computer better. People may not realise how easy these are to do. There is plenty of help available to get started," she adds.
"It might possibly be the way of the future with COVID and the way things are going at the moment. I don't think there's going to be any quick solution to COVID restrictions - and technology has certainly proved to be a boon in this circumstance."
"For example, I belong to the University of the Third Age and I've joined a film discussion group. Since COVID, we've had to move to Zoom meetings. Before that, my friend and I had always gone out to the cinema to see two films each month and then we'd talk about them in the group. Lately, we've had to watch them at home and without the Internet and all the technology we have now, things would have been much, much more difficult," she adds.
What have you studied before?
"I started out as a teacher with the Victorian Education Department. So, I did my first degree which was a Bachelor of Arts and a Diploma of Education on a studentship. A good part of my working life, I was teaching in high schools – English, History and French," she says.
"I have taught in Victoria, NSW and in London. When I came back from London, I started to work with the Catholic Archdiocese of Sydney, eventually being seconded to the central office to work with teachers on professional development and to run education programs. So, I ended up working in fields such as English as a Second Language and Special Education. It was really good."
"I worked as an Education Officer and I travelled around to schools. I was with the Catholic Education Officer from the late 1980s through to when I retired in the early 2000s. During that time, I did go back to study but this was part-time, while I was still working full-time. I did a Master's Degree in Education, so I have got a study background - but that was a different kind of study from the online study I'm doing now," she adds.
"The study I'm doing now is an indulgence really – to be able to pick a course of study that you don't have to do for any other reason than because you simply enjoy it," she says.
Are you tempted to think about studying and learning more after this course?
"Well, probably I would, particularly as I don't think I'll be traveling much for a while. That used to be something you'd do in your retirement years and I've been on a couple of cruises and I've travelled interstate. But I don't think there's going to be as much of that now because of COVID," Levane says.
"So now that I've got a taste for studying again – and for longer history study - the Uni of Tasmania does offer a Diploma of Arts where you can do a mixture of writing courses and history, so I might be tempted to carry on," she adds.
Are there any other people you know who are studying at Beauty Point Retirement Resort?
"I know of another person here and she's a librarian by background. I know she's done some short courses over the years. But we usually have a lot of activities here put on by the village for people to do - anything from exercise classes to craft and theatre groups. Some of these are not on now because of COVID but there is still lots to do," says Levane.
You never know – you might end up teaching people how to work on their own family history?
"Yes, it is more popular now that's true. Television shows like Who Do You Think You Are? have made it more popular these days and it's a great hobby," she says.
"But one of the problems is that we should all start working on our family history earlier while the people around us are still alive! It's important to try and ask your relatives questions earlier. I just remember my dad - he had so much knowledge but once he wasn't' around, I couldn't ask him the questions that would have filled in all the gaps so then it's a lot harder," she adds.
"But there are other ways to find the information and I find it a very enjoyable and worthwhile activity. If I didn't have something like that to do, I think I'd be much less interested in everything. It's been a great activity to do over the past couple of years," she adds.
As well as your diploma, you also keep active by being involved in other activities at Beauty Point Retirement Resort don't you?
"Well, we all help out as much as we can. I'm Secretary of the Residents' Committee at Beauty Point and I also work with the Social Committee – I take notes and send out notices about meetings," she says.
"I'm also one of a team of Sunday receptionists and we man the desk and record all the visitors details etc. I'm a member of the choir – the Beauty Point Songsters – and I love that. We all have a lot of fun at Beauty Point Retirement Resort – it's not like we're not doing anything!" she adds.
If you're interested in doing some online courses or even in researching your own family history, Levane can point you in the right direction. As well, Beauty Point Retirement Resort has computers available in the library and these are available for residents to use at no charge if you want to do some research online.
To find out more information, talk to the Receptionist at Beauty Point Retirement Resort and they'll help you. Or call them on (02) 8708 4700.

Here's Levane at the front of her unit at Beauty Point Retirement Resort.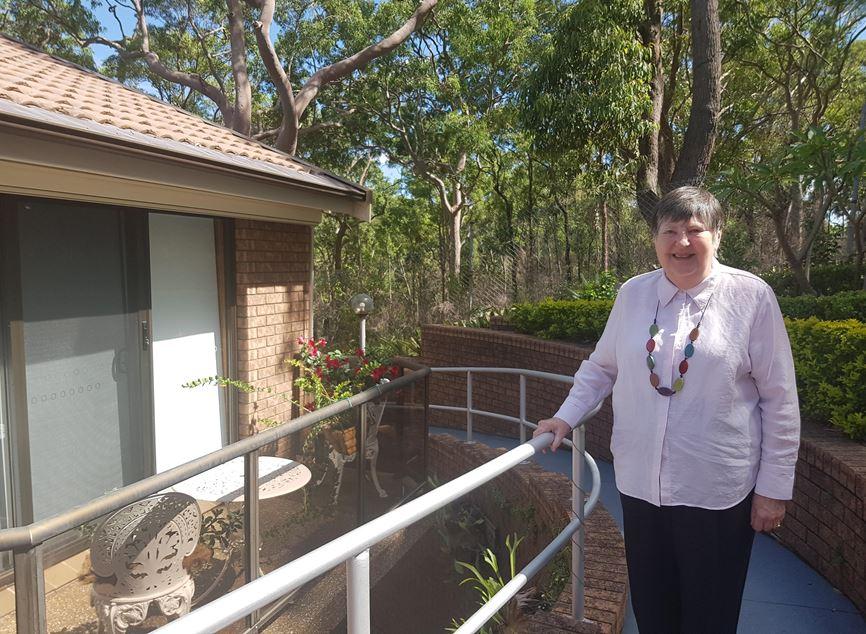 Levane has always enjoyed learning more about her family history.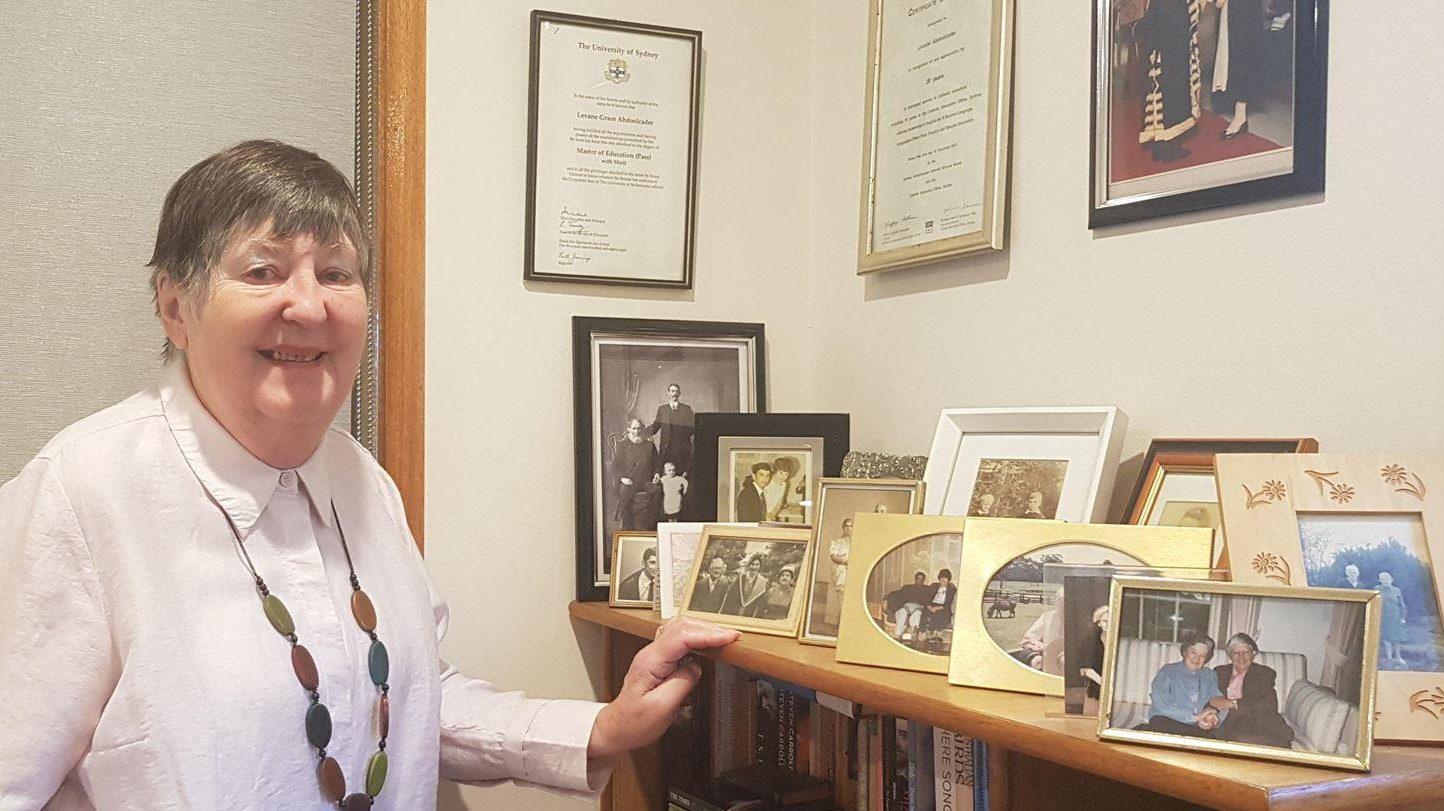 Studying and learning more in her retirement has been an absolute pleasure for Levane over the past two years and she says there's a lot of support to make it possible.